Inspired to Guide Your Retirement Planning.
A speaker is defined as
speak·er / ˈspēkər/ noun / A person who speaks.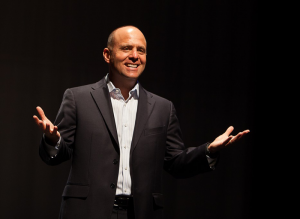 Speaking in front of an audience is not for everyone. I'll admit, it's taken me years to get comfortable sharing my knowledge via a public platform. But at the end of the day, my drive to inspire people to make smart financial decisions has enabled me to grow and thrive as a speaker and to develop a true passion for engaging with audiences around the country.
Inspiration is defined as
in·spi·ra·tion / inspəˈrāSH(ə)n/ noun / The process of being mentally stimulated to do or feel something, especially to do something creative.
Inspiration is the guiding force in my speaking style. Whether my presentation serves to encourage you to rethink retirement planning, or to open up a new line of communication with your financial advocate(s), inspiration can be the spark that sets your successful retirement plan in motion.
I have been sharing my expertise with local, national and international audiences for more than 15 years, and I've found this passion to be the perfect compliment to being a financial author and wealth manager.
Speaking is an area of expertise I have worked hard to fine tune. But what's more important to me than sharing my inspiration for finance with a variety of audiences, is my desire to take the knowledge I've gained over the years about wealth management and encourage others to live the life they've always imagined.
From speaking at the International Million Dollar Round Table to becoming a regular and highly-rated speaker for successful CEOs at Vistage Worldwide, I have found that sharing my financial knowledge is applicable and helpful to a wide variety of groups and individuals.
Just a few of the groups I have spoken with, or currently work with include:
Multiple TV appearances, including:
Central Oregon Daily
ABC affiliate in Portland
Oregon, KATU
myWindow on KOHD
Bend Broadband, 'Good Morning Central Oregon' (Featured in the monthly financial segment)
And more
I want to share my expertise with your group. Book a speaking engagement today.  Contact me today to set up an appointment.