Proof is in the pudding.
What are people saying about Failure Is NOT an Option and Keep Climbing? See for yourself.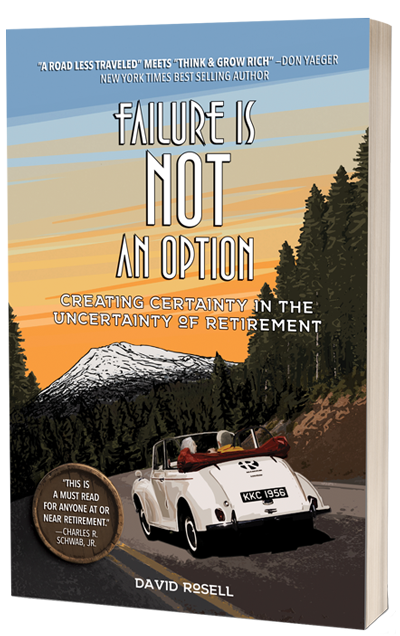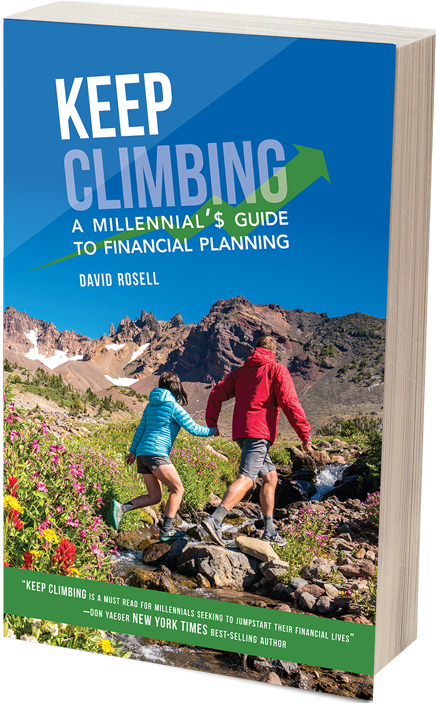 Failure Is NOT an Option Testimonials
Jeff Shore's book review – bestselling author of Be Bold and Win the Sale
"I have always said there are three ingredients in the good life: learning, earning and being hungry. Read Failure Is Not an Option. David Rosell has the recipe to create the retirement you envision with no limitations."
— Les Brown, Motivational Speaker, Author
"David Rosell helps to shift our financial priorities as he shares what true wealth could mean today. Active participation in one's financial goals begins with the envisioning of the desired outcomes, and a conscious application of spiritual principles. This book is not only enlightening but actually fun to read."
— Soraya Deen, Spiritual Activist, Author, Inspirational Speaker, Lawyer, Author of Peace Matters
"David Rosell has combined sound and critical financial planning with the adventure of life, the joy of the journey, and the discovery and mystery of the moment. Let the adventure begin!"
— Thomas Crum, Author of The Magic of Conflict and Journey to Center
"David Rosell's guide to retirement planning shows you not only how to get your finances in order, but also how to bring meaning and purpose to these very special years."
— Ken Blanchard, co-author of The One Minute Manager® and Trust Works!
"After summiting Mt. Everest seven times I know that the second half of the journey—the descent—encompasses a majority of the risk. David does an effective job sharing this same concept when it comes the second half of one's financial journey as we all plan for retirement. There are no shortcuts to the top, but the real challenge is getting down safely. Failure Is NOT an Option provides the game plan to not only survive but to thrive!
— Ed Viesturs, America's foremost high-altitude mountaineer, National Geographic's Adventurer of the Year, Author of No Shortcuts to the Top and Motivational Speaker
"This powerful, practical book gives you a step-by-step guide to retiring in comfort and never worrying about money again."
— Brian Tracy, Author, Change Your Thinking, Change Your Life
"Though I've always had the ability to accomplish my athletic feats, I would have never realized them without a coach. Knowledgeable through experience, a seasoned observer and a technical specialist, a coach provides that critical perspective that one combines with their abilities and turns into accomplishment. David Rosell is the perfect coach for the training phase of life we call retirement."
— Ashton Eaton, 2012 & 2016 Olympic Gold Medal in decathlon, current world record holder in both the decathlon and heptathlon events, World's Greatest Athlete.
"This book brings important financial lessons to life using highly entertaining and insightful travel stories."
— Dan Sullivan, President, The Strategic Coach Inc.
"Failure is Not an Option is not just a catchphrase; it is a concept of life fulfillment for all of us. Being in the fourth quarter of my own journey, I believe David Rosell's wisdom is so critical to embrace for the second half of life, that I am sharing it with all of my children and grand-children as they climb toward their own summits, yearning for achievement and financial independence."
— Denis Waitley, Author, "Seeds of Greatness"
"I thought I would be reading another financial book. It didn't take long to realize that I was instead reading a book about life's grand journeys, and how getting the financial part right compliments our higher aspirations. I am not yet 'on the descent' but David Rosell has challenged me to prepare for that time in my life. He has done so in a way that not only offers profound financial planning advice (which he certainly does) but keeps things in perspective of what life is all about. Read the book, follow the advice, and buy a copy for someone you care about!"
— Jeff Shore,­ Sales Expert and Author, Be Bold and Win the Sale
"Wow! What an exciting and refreshing read in an ever-growing sea of mundane retirement books. Failure Is Not an Option combines the spirit of my audio program Making Your Life an Adventure and the win-win philosophy of my bestseller Secrets of Power Negotiating. This expert guided tour of the retirement you've always imagined is for every successful baby boomer and anyone who wants to live the dream."
— Roger Dawson, Author and Hall of Fame Speaker
"The Road Less Traveled meets Think and Grow Rich. Achieving greatness in your retirement years can now be available to all of us after reading Failure Is Not An Option."
— Don Yaeger, New York Times Bestselling Author, former Associate Editor of Sports Illustrated
"Through engaging real-life travelogues and practical advice, David Rosell charts a clear and defined course to successful retirement. Entrepreneurs like me understand that the "failure is not an option" mantra is a necessary component of survival. David's book provides the recipe for financial success that we all need to not just survive in retirement, but to thrive. I'll lift a glass to that."
— Gary D. Fish, Founder and CEO, Deschutes Brewery, Inc.
"In ski racing the guy who studies the course, chooses the right line, carries speed through the flats while overcoming the ruts and weather conditions wins the gold medal. Failure is not an option when flying down the mountain at over 80 mph! This takes a great deal of training and advice from exceptional coaches. Rosell's book provides the kind of guidance in the financial world that my coaches provided me in the ski world. Go for the gold in your exciting years of retirement!"
— Ken Read, Two time Olympic skier, 5 time World Cup winner, former Canadian Athlete of the Year.
"Our financial journey lasts a lifetime and is made up of two parts: Working years and retirement years. While our working years get us halfway to our destination, David's book is a step by step guide on planning our retirement years to successfully complete the trip in comfort. It should be mandatory reading for everyone 30 and above.
— Jim Ruff, President, OppenheimerFunds Distributors, Inc. – retired
"If you're at or near retirement, this is a must read. Failure Is Not an Option provides a compass for making the most of the second half of your financial journey. After reading David Rosell's book, you'll want to explore all that life has to offer."
— Charles R. Schwab, Jr.
Keep Climbing Testimonials
"Everyone planning for retirement should read David Rosell's Keep Climbing."
─ Charles Schwab, Jr.
"I learned so much about money and had a blast doing so. All millennials should read Keep Climbing so they don't get screwed. Plan hard now so you can play hard later."
— Shari Brooks, executive producer of MTV's "Ridiculousness"
"You always want to make your future bigger than your past, but that's hard to do if you haven't put a sound financial plan in place. In Keep Climbing, author and financial planner David Rosell shows you how to do that through his own adventure and travel stories."
— Dan Sullivan, founder of The Strategic Coach, Inc.
"A team like ours wins the Major League Soccer Championship because of great coaching and focused preparation. David Rosell provides the education and motivation needed to take you to your financial finals."
— Nat Borchers, two-time MLS Soccer champion
"Keep Climbing is a must read for millennials seeking to jump-start their financial lives."
— Don Yaeger, New York Times best-selling author, former associate editor of Sports Illustrated
"We all want to be front-runners when it comes to finances, but only those of us who are motivated to do what it takes will get there. David Rosell's book will keep you climbing even when the going gets tough."
— Roger Dawson, author and Hall of Fame speaker
"Chasing financial freedom is a race we all participate in. Although it's a quad-burning, uphill battle, David Rosell's Keep Climbing will give you the edge as you pedal toward the finish line."
— Adam Craig, U.S. Olympic mountain biker
"We can all overcome challenges. Even though I'm legally blind, I've always wanted to compete in the Iditarod. To make that happen, I needed a good team of dogs and I had to learn a heck of a lot. If finding financial freedom sounds just as daunting to you, arm yourself with the kind of critical information contained in David Rosell's book Keep Climbing and you'll make it to the finish line just like I did."
— Rachael Scdoris, Professional Sled Dog Racer, author of No End In Sight, Glamour Magazine Woman Of The Year- 2006.